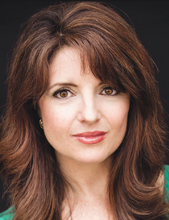 Sharon has extensive experience as an Emmy Award winning journalist. For twenty years, she excelled as a television news anchor, broadcaster and producer. Her ability to connect with an audience was and remains one of her greatest strengths. Prior to starting her broadcasting career, Sharon worked with the Department of Defense and the USO. In 2008, she entered the entrepreneurial world, founding Greenroom Communications and in 2017 she navigated her team to a successful merger with Walk West, where she is a Partner and heads up the firm's professional development practice.
Through her keynote presentations and coaching, she helps business and government leaders to excel. A particular focus is helping women professionals, whether they are C-level executives or emerging leaders, to truly have a voice, not merely a seat, at the table. Sharon engages and connects with her audience while at the same time offering actionable insights.
A breast cancer survivor herself, Sharon and her husband lost their young daughter, Macie, who passed away in 2005 after a courageous battle against acute myelogeneous leukemia, igniting Sharon's activism with the St. Baldricks Foundation and the Leukemia & Lymphoma Society. Sharon has turned her grief into action and gives selflessly of her time and talents to support other families and organizations that share her guiding principle to "Never, Ever Give Up." Sharon has been featured in numerous publications, including Sheryl Sandberg's Option B digital platform, Enterprising Women and #KeepGoing campaign.