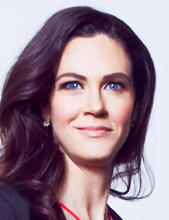 Rachel is a global executive with 23+ years of experience in a variety of industries where she has consistently delivered significant and measurable bottom-line results and has been continuously rewarded with new challenges and opportunities. An expert in aligning strategy with organizational vision and objectives, she leads new initiatives with C-suite executives to help them shape and refine their strategic objectives and achieve business goals through implementation of strategic roadmaps, solid technology foundations and standardized process management.
Rachel is the General Manager for US Enterprise, Government, SLED and Cloud Industries at Intel and leads 9 different industry verticals in the US (Cloud, Retail, Transportation, Manufacturing, Energy, Financial Services, Government, SLED and Health Life Sciences) and is accountable for $5B in sales. Her focus is on enabling companies to realize the value of innovative offerings and delivering end-to-end innovative solutions to the industry that solve real-world business problems. She was named by Chain Store Age as one of the "Top Ten Women in Technology" in January 2017 and Women's Wear Daily listed her among the "Top Industry Transformers" in December 2016.
Rachel holds a bachelor's degree in computer science and an MBA in international business (both magna cum laude) and is an alumna of Columbia's Graduate School of Business in New York. She is an active supporter of STEM education and programs. She serves on the Corporate Advisory Board for the University of Arizona's Terry Lundgren Retail School, where she helps the school achieve its mission and goals.