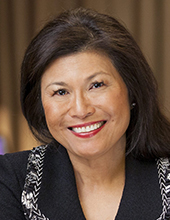 In June 1992, Dr. Mariano became the first military woman in American history to be appointed White House Physician. She was nominated by the Navy and selected by the White House for this honor. In 1994, Dr. Mariano was the first woman to be named Director of the White House Medical Unit. She served nine years at the White House where she was physician to three sitting U.S. Presidents. When promoted to Rear Admiral, she became the first Filipino American in history to become a Navy Admiral. She completed 24 years of active duty service when she retired from the Navy in 2001.
As White House Physician, she not only cared for the leader of the free world and the entire First Family, she also cared for visiting dignitaries and traveled all over the world with the Presidents in her charge. From meeting the Pope four times to greeting King Juan Carlos of Spain to spending a night on the Queen of England's yacht, she saw a glittering side of life few get to experience. She also experienced the tremendous pressures that accompanied her role. She chronicled her experiences in The White House Doctor: My Patients Were Presidents, which provides a rare and intimate view into the corridor of powers.
After leaving the White House, Dr. Mariano became a consultant in the Executive Health Program at the Mayo Clinic. In November 2005, she founded the Center for Executive Medicine, a medical concierge practice which provides presidential-quality medical care to its patients. Dr. Mariano's life began in relatively humble circumstances and she has never forgotten her roots. A true champion and inspiration for all women leaders, she shares her journey as a woman, mother, naval officer and head of the White House Medical Unit and the invaluable lessons she learned along the way.
First Female Director of the White House Medical Unit, Physician to Three Sitting U.S. Presidents, Author of The White House Doctor